SOUTHLAND TALES Makes A Lot More Sense, Now
Like most people who have seen it, I didn't know what to make of Southland Tales the first time I watched it, which was on home video as I wasn't quick enough to be part of its very limited theatrical release in the fall of 2007. There were certainly parts of it I really enjoyed (Dwayne "no longer The Rock" Johnson's performance chief among them) but there was just SO MUCH going on at all times I just couldn't connect to it. It was like getting every reveal from the entire run of Lost condensed into 140 minutes.
Or, I guess, every reveal from the back half of Lost, without the primer of the information we learned in the first few seasons. While multimedia projects are a little more common now (see: Wandavision - preferably before Doctor Strange 2), Richard Kelly's idea to present the first three chapters of his sprawling epic as graphic novels (with the film offering chapters 4-6) was radical in 2007, not to mention confusing and even somewhat expensive. It's one thing to go see a movie and come out wanting more, but it's another to ask audiences to buy three graphic novels at 15 bucks a piece so they can follow along with a movie that'll cost them even more money.
But even if you read them the movie is something that will likely take a few viewings (and perhaps a detailed synopsis or two) to get a firm grasp on. For the sake of brevity I'll say that it's about an actor (Johnson) who is suffering from amnesia and finds himself involved in a complicated blackmail plot involving a porn star/entrepeneur (Sarah Michelle Gellar), a group of Neo-Marxist rebels led by Cheri Oteri, a government surveillance group called US-IDENT, and a pair of twin brothers (Sean William Scott) who also have amnesia and may hold the key to the end of the world. Did I mention Kevin Smith in old man makeup, or Jon Lovitz as a murderous LA cop, or Christopher Lambert as an arms dealer who operates out of an ice cream truck?
Like I said, it's a lot. Too much, as it turns out, because, as much as we loved Donnie Darko and wanted to see what its creator had cooked up next, the project was a failure (Darko actually grossed more, despite playing on fewer screens and lacking the same upfront interest). But like all flops it found a cult following, and after fifteen (!) years of curiosity, the film has been given a proper special edition release in the US from Arrow Video, with some new retrospective features, the old commentary Kelly recorded in 2008, and - most alluringly - the fabled "Cannes Cut" of the film that screened at the festival in 2006 and was met with nearly universal disdain (it remains one of the lowest scoring films that competed there, ever).
For those unaware, this cut ran about 20 minutes longer, featured different voiceover from narrator Pilot Abilene (Justin Timberlake), and - for those who only saw the theatrical cut - finally explained why Janeane Garofalo appeared for a second in a crowd scene (her character Teena was otherwise completely removed in the edit). I wouldn't say their reinstatement will make much of a difference to those who hated the film, but for those like me who have grown to kind of love the damn thing, it was great to finally get a few more slivers of this ambitious, incomplete world.
(If you're wondering if there's more to Timberlake's bravura lip-synch to "All These Things That I've Done", alas, there is not. He apparently always only sang the last third of it. It's still a perfect scene as is though, and the behind the scenes info about it is not only fascinating but might make you love it even more.)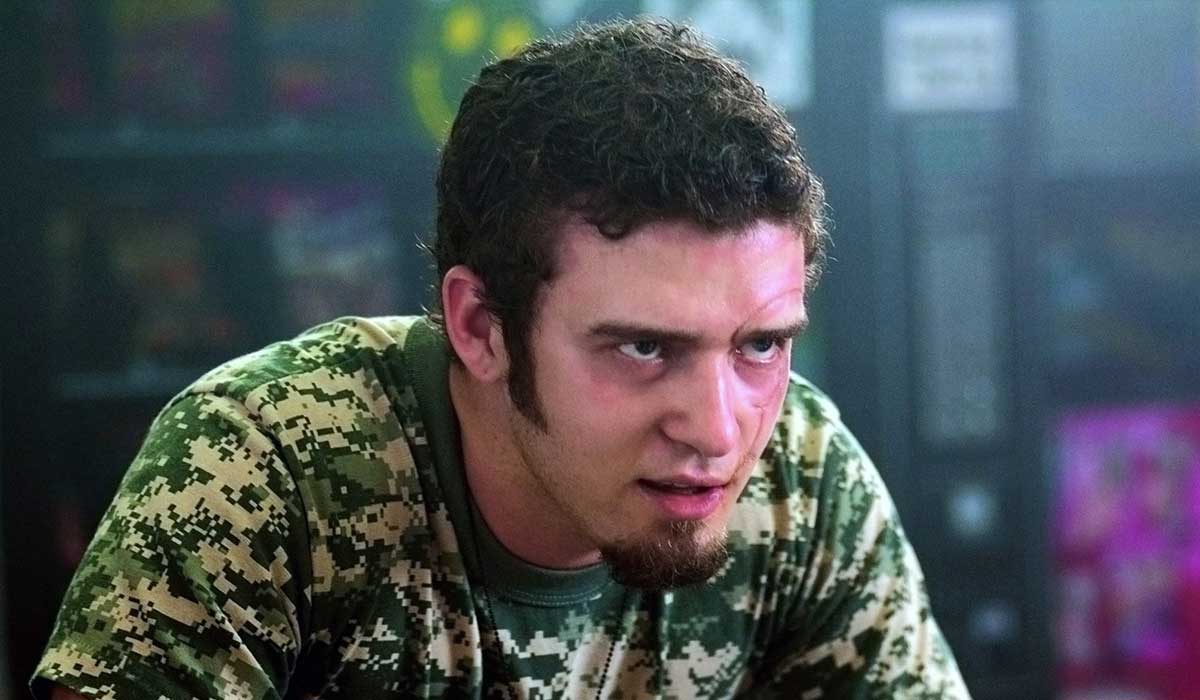 But what was really interesting about revisiting the film is how sadly correct Kelly was about the future. He wrote the film in the aftermath of 9/11 and during the 2nd Iraq war, and the film (in either version) is packed to the gills with his panic about what could happen next. The Patriot Act, energy crises, brain dead morons being given a platform and treated as people worth listening to for news… these things were problems then and continue to be, but as he set his film a few years into the future, he exaggerated his ideas into absurdity.
And then a lot of those ideas came true, too.
For example, a major subplot involves video of a racist cop committing murder, inspiring citizen riots "for the first time since 1992". In 2007 when the film came out, that bit landed much differently than it does now, and it's hardly the only instance of the film feeling like a response to what's happening NOW as opposed to what was happening fifteen years ago. Hell, it's mostly played for laughs and barely even counts as a subplot, but the fact that part of the storyline involves voter fraud (severed thumbs are used to create duplicate votes) feels like a cruel joke about the 2020 election. And the less said about Kelly's once-insane idea of a porn star trying to bring down the evil politician, the better.
On the flipside, for all its "ahead of its time" elements, there's something that makes it feel like an ancient relic: the fact that it's a hugely ambitious, original tale featuring A-list talent. This film was made for south of 20 million dollars, which is a budget the studios won't even really consider anymore unless it's for a horror movie. And for that relatively small sum they got an incredibly diverse cast (Dwayne Johnson, Wallace Shawn, Bai Ling, Mandy Moore, and a half dozen SNL vets alone is already eclectic as hell and there are plenty of others) and a production set mostly in LA exteriors, something we rarely see these days as most shoots are swayed by better tax incentives elsewhere. Every time I found myself kind of blown away that Kelly's nightmares came true, I also had the recurring thought that "they don't make em like this anymore."
It's worth noting that this film's theatrical release was at the end of 2007, when 2008 is the year movies kind of changed forever thanks to the one-two punch of The Dark Knight and Iron Man. Comic book movies became the driving force of the industry; even those that weren't actually based on comics were inspired by those film's success, with "cinematic universes" popping up (pour one out for the Dark Universe!) and, in turn, a notable decrease of original, ambitious movies. Sure, filmmakers like Christopher Nolan and the Wachowskis still get to pull out things like Tenet and Jupiter Ascending thanks to the studio wanting to keep them happy, but a time when a guy like Kelly (whose previous film wasn't a financial success, either) can get an eight digit budget and a top notch cast for something as baffling as this is long behind us. Anyone pitching this to Sony or Universal today probably wouldn't even get their parking validated. Maybe he should have published the comics a few years earlier; he'd be primed for blank checks.
Kelly has recently teased that there is interest in reviving this world for more projects, perhaps for a streaming service, and I'm all for it. Even if he just makes some kind of animated version of the first three chapters (since it's been sixteen years, even by this film's standards it'd be hard to buy into Johnson, Gellar, etc playing the same age, as the entire story unfolds over a few days), it'd be great to be able to have easier access to their stories, as the graphic novels are long out of print and unavailable digitally (through legitimate means anyway).
But if nothing comes of it, I'm glad we at least got this more or less definitive release of the film, which - for all its kookiness and occasionally impenetrable plot - is ultimately a kind of sweet and moving tale of people trying to create a little bit of peace and happiness for themselves in a world that has stopped making any sense, and it all comes down to someone learning to forgive themselves for screwing up. In a world ravaged by unending political fighting and a pandemic, there's something quite uplifting about watching it now that didn't quite register fifteen years ago. You don't have to be able to follow every plot point (I certainly can't), but after the past few years, I think we're all better equipped to enjoy the relatively simple message it offers underneath all the nuttiness.