5 Films Set in a Movie Theater Pt. 2
All right folks, as promised, I wanted to follow up last week's list with five more picks of films that take place in movie theaters. Just a warning, I do go off the rails a bit on this list. A couple of the films are not single location and stray quite a bit from the theater setting, but bear with me.
1. The Last Showing (2014)
Starring horror veteran Robert Englund, The Last Showing is a slick, low budget film out of Britain. Englund plays an ex projectionist, current theater employee who is bitterly holding onto the days of celluloid. Just two days shy of his retirement, he sets in motion a plan to make his own film, involving a young unsuspecting couple attending a midnight showing of The Hills Have Eyes 2. After drugging young Allie (Emily Berrington), he begins a tortuous game of cat and mouse with her boyfriend Martin (Finn Jones). With the self-referential quality of the film, Robert Englund's appearance and the screening of The Hills Have Eyes 2, the film is a very obvious tribute to Wes Craven. The couple even has a discussion about the filmmaker and contemporary horror films towards the beginning of the film. Unfortunately, despite these few references and Robert Englund's stellar performance, The Last Showing tends to abuse the suspension of disbelief. For example, I have a hard time believing that a large multiplex would have a screening of The Hills Have Eyes 2 and only one couple would show up, but I suppose it's not out of the realm of possibility. The story is overall pretty thin but it's worth checking out for anyone who is a dedicated fan of Englund.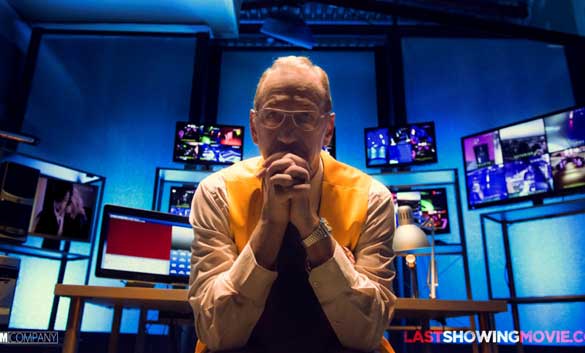 2. John Carpenter's Cigarette Burns (2005)
This is the first of the films that strays a bit from our subject. Not only does it not take place entirely in a theater, but it is also technically an episode of the television show Masters of Horror. I felt the need to include this one because I find Cigarette Burns underrated and fascinating and still very relevant to the topic at hand. Pre-The Walking Dead's Norman Reedus stars as Kirby, a tortured movie theater owner who is hired by an eccentric old collector to track down a supposedly lost film. The film had only been seen once at a festival where, after seeing it, the audience was driven to violent insanity. Kirby accepts the challenge but quickly realizes he may be in serious danger if he continues his search. In only 59 minutes, Carpenter tells a graphically unsettling tale about the power of obsession that remains in your psyche long after it's over. Interestingly enough, that also seems to be a running theme in several of his films in Cigarette Burns and his 1994 film, In The Mouth of Madness, Carpenter seems particularly fascinated with the lingering affect art can have on the human mind. Beyond just these themes, you can recognize Carpenter's brushstrokes throughout the episode. Most notably, he brought on first time composer, as well as his son and future band mate, Cody Carpenter to bring his signature score to the episode. What he was able to accomplish within this limited time frame proves, once again, that he is in fact a Master of Horror.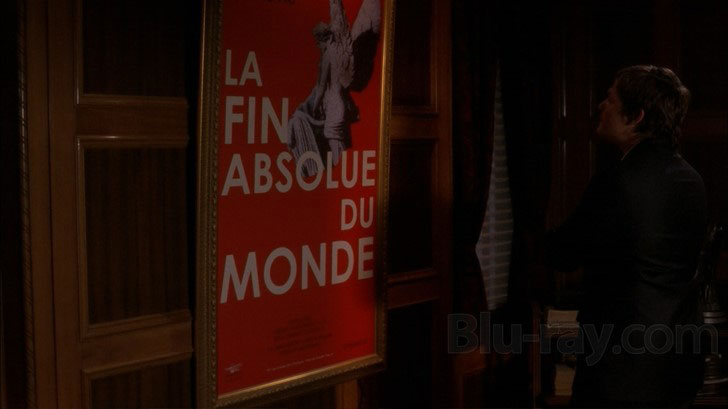 3. All About Evil (2010)
The directorial debut of Joshua Grannell AKA international drag superstar Peaches Christ, All About Evil is exactly the type of film you would expect to be written and directed by a drag queen and I mean that as a high compliment. As Peaches Christ, Grannell has spent nearly two decades as a staple in the San Francisco film and drag community after starting the wildly popular Midnight Mass events at the Bridge Theater. With that level of experience, it is no wonder Grannell is well versed in camp and cult films. All About Evil stars Natasha Lyonne as mousy and repressed librarian Deborah Tennis who has inherited an old movie house from her late father. When her evil stepmother tries to bully her into selling the theater, Deborah finally reaches her breaking point and violently finds her calling as a filmmaker, at the expense of her stepmother. When she accidentally screens her unintentional snuff film, it garners her an unlikely fan base. She begins to see the potential in her films as a way to simultaneously save the theater and pursue her father's dream of her becoming a famous actress. As Deborah refuses to let go of her newfound success, bodies continue to pile up. Although a bit mean-spirited, this film is a celebration of the counter culture and the outcasts who find their place at Midnight Movie houses. With gore and B Movie tributes galore, All About Evil finds the line and jumps gleefully over it. There are even several familiar faces in the film; Cassandra Peterson (AKA Elvira, my Queen) plays protagonist Steven's (Thomas Dekker) mom, and Peaches Christ herself makes a few appearances. This film is wildly over the top, but as a person who grew up treating the Rocky Horror Picture Show as a religion, it is very much my cup of tea.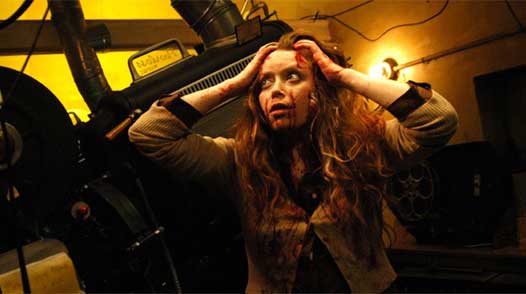 4. The Final Girls (2015)
Quality-wise this film definitely takes the crown as far as this list is concerned. When it was released in 2015, it easily made it's way onto my top 10 list of the year. With an all-star cast, beautifully surreal color palette, impressive cinematography, and clever, heartfelt writing, The Final Girls is, dare I say, the best self-referential horror film since Scream. The story follows Max (Taissa Farmiga), a high school senior who lost her ex-scream queen mother Amanda (Malin Akerman) in a car wreck a year prior. Still grappling with the harrowing loss, Max is bribed by horror super-nerd Duncan (Thomas Middleditch) to attend a screening of her mother's 1980's slasher hit, Camp Bloodbath. With her best friend Gertie (Alia Shawkat) by her side, she braves the screening. In a series of unfortunate events, the theater catches fire and Max, Gertie, Duncan and a couple of friends attempt to escape through a door behind the screen. Instead of escaping to safety however, the group is somehow transported into Camp Bloodbath. As the gang is integrated into the film, they must use their knowledge of horror film tropes to try to get home, while Max tries to take this opportunity to finally save her mother. Adam Devine kills it as douchey jock Kurt, but the real MVP is slutty camp counselor Tina, played by the incredible Angela Trimbur. Be sure to check her out in the newest film by Richard Bates Jr, Trash Fire that screened opening night of Screamfest 2016. She is a talent to be reckoned with and I have a feeling we will be seeing a lot of her in the next few years. Even with The Final Girls' abundant comic relief, the film still manages to stay on track as a film about a mother/daughter relationship and moving on from the loss of a parent. This is a rare breed of horror film that I like to call "Feel-Good Horror". The film is surprisingly subversive with likable and complex characters. I did not even mind that it was rate PG-13. Angela Trimbur's improvised dance scene is enough reason to give this one a watch.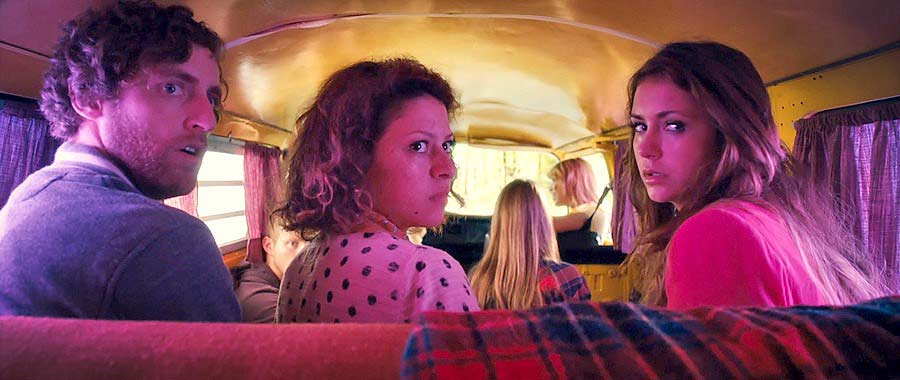 5. Dead End Drive In (1986)
Although not necessarily a movie theater per se, but honestly, who doesn't love seeing a movie at the drive-in? I should also preface this by saying how much I love post-apocalyptic films, especially of the Australian variety from the 1980's (particularly one where Rambo 8: Rambo Takes Russia, exists). With that being said, this film panders to an audience of exactly me. In the "near-future" of 1995, the world has diminished into post-apocalyptic chaos. When Crabs (Ned Manning) steals his brother's car to impress his girlfriend Carmen (Natalie McCurry), the pair goes on a date to the Star Drive-In and inadvertently get trapped in a strange refugee camp filled with social outcasts. With a steady supply of booze and hollow entertainment, the inmates don't seem particularly bothered by their captivity. Even Carmen starts to get a little too comfortable. It wasn't until the arrival of a new batch of Asian inmates that I realized this film is far more politically relevant than I expected. As the new arrivals get off the truck, they are instantly met with aggression and hostility from the rest of the inmates. From there, the racism becomes palpable. Carmen utters the line "they should limit the number of people who come here" and I begin to flash on modern day headlines. What I originally thought was just another 80's Ozploitation film, turned out to be a socially relevant analysis of immigration, racism and the dangers of mob mentality that seems as topical as ever. This was an all around pleasant surprise of a film, with great production design, killer soundtrack and a social message.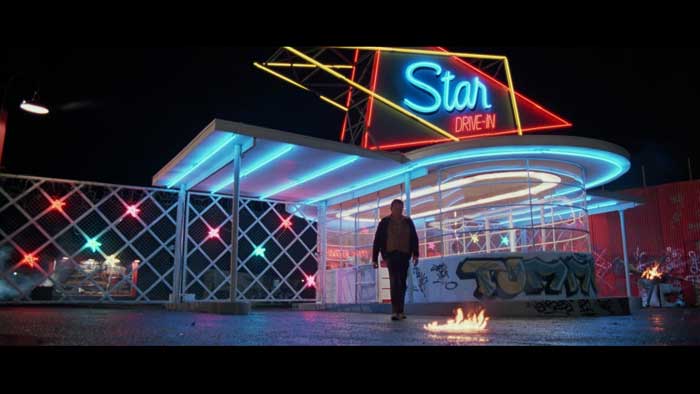 In this day and age, the only thing we can do to support dying mediums is to show our support for them. So I strongly urge you to support your local film festival or independent and revival theaters. And watch Horror, it keeps America strong.
If you want to stay updated on my posts or just want to say hi, follow me on Twitter
or Instagram.
@TalesfrmthCrypt