screamfest
May 25, 2016 - 11:44am

May 24, 2016 6:10pm
Central Intelligence will open the 20th annual American Black Film Festival on June 15 in Miami. The film, a New Line Cinema and Universal Pictures presentation distributed by Warner Bros, opens in theaters June 17. Starring Dwayne Johnson and Kevin Hart, it follows a lethal CIA agent and one-time bullied geek (Johnson) as he heads home for his high school reunion. Hart plays his former "big man on campus" classmate who misses his glory days. Amy Ryan, Aaron Paul and Danielle Nicolet co-star. The fest runs June 15-19 and features panels with Nate Parker discussing The Birth Of A Nation and Will Packer and cast about the making of Almost Christmas.
The 16th annual Screamfest will take place October 18-27 at the TCL Chinese 6 Theatres in Hollywood. Actress Lydia Hearst (Condemned, #Horror) will serve as ambassador for the festival. America's longest running horror film festival, Screamfest 2016 will accept submissions for through August 1. All screenings will be open to the general public. The festival is best known for discovering Paranormal Activity in 2007, with other past premieres including 30 Days Of Night, Let The Right One In, The Grudge and The Human Centipede.
Subscribe to Deadline Breaking News Alerts and keep your inbox happy.
Screamfest 2016: Festival Announces Dates And Names Lydia Hearst Festival Ambasador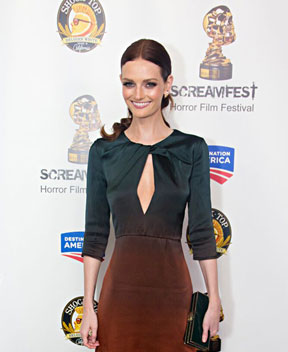 America's largest and longest running horror film festival, Screamfest, is proud to announce that the 16th annual event will take place from Oct. 18-27, 2016 at the TCL Chinese 6 Theatres in Hollywood. Actress Lydia Hearst (Condemned, #Horror) will serve as ambassador for the festival. "I'm honored to serve as ambassador for Screamfest," said Hearst, whose film Condemned premiered at last year's festival. "Screamfest provides an amazing platform for filmmakers and actors like me to showcase our latest work and to receive direct feedback from the horror and genre community." Screamfest is currently accepting submissions for the festival through Aug. 1, 2016. Films from around the globe are expected to screen at the festival. Winners will receive a 24 karat gold dipped skull trophy designed by the legendary, Academy award-winning special make-up effects creator, Stan Winston, who partnered with the festival until his passing. All screenings are open to the general public. "We're excited to showcase the new work of American and international filmmakers for horror movie enthusiasts," said (co-founder Rachel) Belofsky. "Over the last 16 years, we have launched careers and helped garnered distribution for filmmakers. We're proud of the work we showcase year after year." The festival is best known for discovering Paranormal Activity in 2007. Other past premieres include 30 Days of Night, Let the Right One In, The Grudge, The Fourth Kind, The Collection, Trick 'r' Treat, The Human Centipede and Diary of the Dead. Wes Craven, John Carpenter, Sam Raimi, Clive Barker, Eli Roth, James Wan, Zack Snyder, William Friedkin, John Landis and James Gunn are just (some of the) filmmakers who have supported the festival year after year.
screamfest
September 7, 2016 - 10:42am
HOLLYWOOD – Sept. 7, 2016 – America's largest and longest running horror film festival, Screamfest Horror Film Festival, announces the first wave of its official 2016 film line up. The festival, which will run from Oct. 18-27, 2016 at the TLC Chinese in Hollywood, has launched careers - providing a platform for filmmakers and actors to showcase their latest work to enthusiasts and general audiences. Actress Lydia Hearst (Condemned, #Horror) will serve as ambassador for the festival.
"We're so thrilled to announce such a diverse group of films this year," said Rachel Belofsky, Screamfest Founder and Festival Director. "Even in our 16th year, filmmakers continue to push the envelope and amaze us with their incredible imagination, creativity, passion and hard work."
This year's Screamfest Horror Film Festival will offer unique access to some of the most creative forces in the horror genre through film screenings, Q&A's and conversations with some of the most captivating artists working in the industry today. Film festival badges are currently on sale to the general public at www.ScreamfestLA.com and individual film tickets will be available soon.
Screamfest Horror Film Festival is proud to announce that the following films have been admitted to the festival – the first wave of the 2016 line up.

THE MASTER CLEANSE (USA) 2016
Directed by Bobby Miller
Written by Bobby Miller
Produced by Jordan Horowitz, Johnny Galecki, Aaron L. Gilbert
Cast: Anna Friel, Johnny Galecki, Anjelica Huston, Oliver Platt
LA Premiere
Down, out, and heartbroken, Paul attends a spiritual retreat to cleanse himself and fix his broken life but soon discovers that the cleanse releases more than everyday toxins...a lot more. The feature debut from Bobby Miller (TUB), THE MASTER CLEANSE is a trippy and fantastic journey that examines how we deal with the things that weigh us down in life, ultimately asking the all-important question: given the opportunity to literally face your demons, what would you do?
TRASH FIRE (USA) 2016
Directed by Richard Bates, Jr.
Written by Richard Bates, Jr.
Produced by Lawrence Mattis, Matt Smith, David Lawson Jr.
Cast: Adrian Grenier, Angela Trimbur, Fionnula Flanagan, AnnaLynne McCord, Matthew Gray Gubler, Sally Kirkland, Ezra Buzzington, Ray Santiago, Molly McCook
LA Premiere
When Owen is forced to confront the past he's been running from his whole adult life, he and his girlfriend, Isabel, become entangled in a horrifying web of lies, deceit and murder. You'll laugh. You'll cry. You'll be scarred for life.

THE CRUCIFIXION (USA) 2016
Directed by Xavier Gens
Written by Carey Hayes, Chad Hayes
Produced by Leon Clarance, Ara Keshishian, Peter Safran
Cast: Sophie Cookson
LA Premiere
THE CRUCIFIXION is a supernatural thriller based on true events that touches on the universal themes of life vs. death and good vs. evil. The project stars Sophie Cookson (Kingsman: The Secret Service), is written by the Hayes Brothers (The Conjuring) and produced by Peter Safran with Xavier Gens (Hitman) directing.

MY FATHER DIE (USA) 2016
Directed by Sean Brosnan
Written by Sean Brosnan
Produced by Sanja Banic, Alma Bogdan-Turner, Orian Williams, Sean Brosnan, Pierce Brosnan
Cast: Joe Anderson, Gary Stretch, Candace Smith
LA Premiere
Deaf and mute since having his hearing knocked out at the age of 12, Asher has been training for almost two decades to avenge himself on Ivan, the man that killed his older brother 21 years ago. And now that his nemesis is out of prison, he gets his chance. But Asher's target also happens to be his father.
FEAR, INC. (USA) 2016
Directed by Vincent Masciale
Written by Luke Barnett
Cast: Lucas Neff, Caitlin Stasey, Chris Marquette, Stephanie Drake, Mark Moses, Abigail Breslin
LA Premiere
Produced by Luke Barnett, Vincent Masciale, Natalie Rose Masciale, Heather Kasprzak
Fear, Inc. follows a company of degenerates who can be hired for a premium to bring your greatest fears to life. But when horror junkie Joe Foster's customized scare seemingly begins, he and his friends must decide if this company is there to scare them, or make them pawns in their own sick game.
BEDEVILED (USA) 2016
Directed by The Vang Brothers (Berlee and Abel Vang)
Written by Berlee Vang, Abel Vang
Produced by Abel Vang, Burlee Vang, Leng Yang , Cheng Yang, Kirk Roos
Cast: Saxon Sharbino, Mitchell Edwards, Brandon Soo Hoo, Victory Van Tuyl, Carson Boatman, Alexis G. Zall, and Jordan Essoe
LA Premiere
Five teenagers receive an invite to download a Siri-like app. Once they accept this app which calls itself Mister Bedevil, it begins to torment each of them by tapping into their worst fears. To stop this malevolent force, the teens must learn to trust and depend on each other's wits and courage.

INICUO: THE BROTHERHOOD (MEXICO) 2016
Directed by Alejandro G. Alegre
Written by Alejandro G. Alegre
Produced by Alejandro G. Alegre, Victor Leycegui, Roberto G. Alegre, Enrique Villanueva
Cast: Isaac Pérez Calzada, Marcos Duarte, Verónica de Alba, Guillermo Jair, Rodrigo Ostap
LA Premiere
After a voyage of discovery FEDERICO creates a new religious cult. He kidnaps FERNANDO, a former collaborator, which will try to leave as heir of worship in the midst of a slaughter justified by their own past tragedies.
LAKE BODOM (FINLAND) 2016
Directed by Taneli Mustonen
Written by Aleksi Hyvärinen and Taneli Mustonen
Produced by Aleksi Hyvärinen, Sophie Holden, Callie McGregor, Claudia Troncoso
Cast: Nelly Hirst-Gee, Mikael Gabriel, Mimosa Willamo, Santeri Helinheimo Mäntylä
US Premiere
Every camper's worst nightmare came true at Lake Bodom in 1960 when four teenagers were stabbed to death while sleeping in their tent.
ABOUT SCREAMFEST HORROR FILM FESTIVAL
Formed in August 2001 by film producer Rachel Belofsky, Screamfest Horror Film Festival is a 501(c)(3) non-profit organization that gives filmmakers and screenwriters in the horror and science fiction genres a venue to have their work showcased in the film industry. Among the numerous films that have been discovered and/or premiered at the festival include "Paranormal Activity," "30 Days of Night," "Trick 'r Treat" and "The Human Centipede."
Screamfest is sponsored by Shock Top, Birns & Sawyer, Crypt TV, Brickwork, and Dapper Cadaver. Screamfest is supported, in part, by the Los Angeles County Board of Supervisors through the Los Angeles County Arts Commission. Screamfest is made possible in part by a grant from the City of Los Angeles, Department of Cultural Affairs.
screamfest
October 11, 2016 - 10:13am
Got your ticket? Join us for a cocktail reception at Sid's Bar!
Meet Murdering Psychopath Mick Taylor at a Special Screening of Pop's Wolf Creek, Inspired By The Cult Movie.
Get FREE tickets to this amazing event by clicking on the GET TICKETS button and submit the form. Come to the WILL CALL table located in the Chinese 6 Theater lobby to check in. Then join us for the PRE PARTY at Sid's Bar located in the theater lobby.
30,000 people go missing in Australia each year, with 90 percent found within the first month. The rest are never seen again...
Murdering psychopath Mick Taylor (John Jarratt), one of the most terrifying killers ever depicted on the big screen, will be at LA Screamfest on Wednesday, October 19 at 8:30 PM for a special screening of the WOLF CREEK television series: www.poptv.com/wolfcreek
Inspired by the cult movie—which was named one of "The 25 best horror movies since 2000" (AV Squad), one of "The 100 Best Horror films" (Time Out), and one of "The 25 Best Horror Movies Since The Shining" (Vulture)—the six-part television event, WOLF CREEK, is a psychological thriller premiering Friday nights at 10:00 PM, ET/PT (starting October 14) exclusively on cable network Pop.
This primetime event at LA Screamfest will include a screening of two back-to-back, uncut episodes followed by a one-on-one chat with WOLF CREEK star John Jarratt. Fan engagement and photos with John will take place at the TCL Chinese 6 Theatres.
screamfest
October 20, 2016 - 9:55am
Congratulations to our 2016 Screenplay Winner and Finalist!
WINNER
Plum Island by Matthew Lee Blackburn
TOP 5:
Spider Eaters by Michael Klug
Red Comet by Matthew David
Dark Jungle by Kevin Wray Anthony Wilson
Plum Island by Matthew Lee Blackburn
Madness in the Mine by Tasha Lowe Newsome & Yuell Newsome
TOP 10:
The Black Spot by Ryan Roope & Joseph Henderson
Children of the Dead by Jeff Bassetti
Dark Jungle by Kevin Wray Anthony Wilson
Madness in the Mine by Tasha Lowe Newsome & Yuell Newsome
Plum Island by Matthew Lee Blackburn
Prey by Jason Fong
Red Comet by Matthew David
Red Room by Michael A. Cantu
The Rougarou by Chris Grillot
Spider Eaters by Michael Klug
SEMI-FINALISTS:
Axiom of Evil by Connor Gunnin
Black Zombi by Clint Mathewson
Cadaver by Todd Naylor
Catharsis by Christopher T. Wood
Cemetery Hill by Cornelius Broderick
Dead by Trevor Keeth
Dead Children by Dean Wehrli
Die Sitter Die! by Sam Boxleitner, Lee Boxleitner & Alex Holcomb
Hungerpangs by Nathan Ludwig
It's a Love Story by Laura Patterson & Isaac Alpert
Lust for Blood,Lust for Death by Christopher Fay
Scare Me by Christopher Hlas
The Abandoned Ones by Tim Cairo
The Last Day by Daniel Abts & Simon Nagel
The Reaper's Time by Terrence Mitchell Thibodeaux
The Secret Behind Andover Palms by Jimmy Scanlon
Vein by David Jung
Wandering Star by Michael Raymond
Widow by Robert Bruce Baird & Robert Gosnell
Wolves at the Door by Pradeep Aujla